Safari Ltd
Regular price
Sale price
$17.90 SGD
Unit price
per
Save!
Out of stock
Salmon undergo a long journey during their life, hatching from eggs in freshwater streams, growing up into adult fish, and then swimming out to the ocean to live most of their lives in salt water. When they are old enough to mate, they begin the long journey back to the streams from which they hatched, where they will spawn and, in most case, die.

Scientific Name: Family Salmonidae, subfamily Salmoninae

Characteristics: This set includes 5 figurines detailing the fascinating lifestyle of a salmon, from the egg all the way up to the adult fish. This set provides a fun, tactile way to learn about the life stages of these unique and important fish.

The Life Cycle of a Salmon is part of the Safariology® collection.

All of our products are Non-toxic and BPA free.
Bundle with our Wooden Life Cycle Tray!
Learn all about the life cycles of animals, insects and bugs with our handcrafted wooden tray! Help your little children learn and understand the stages of which they form - the circle of life.
Diameter of Inner Circles: 7.6cm
Diameter of Tray: 25cm
Thickness: 2cm
Material: Pine Wood
Finishing: Foodgrade Beeswax
Note: Wood finishing may differ in colour due to natural wood grain, colouration and handcrafting process
Share
View full details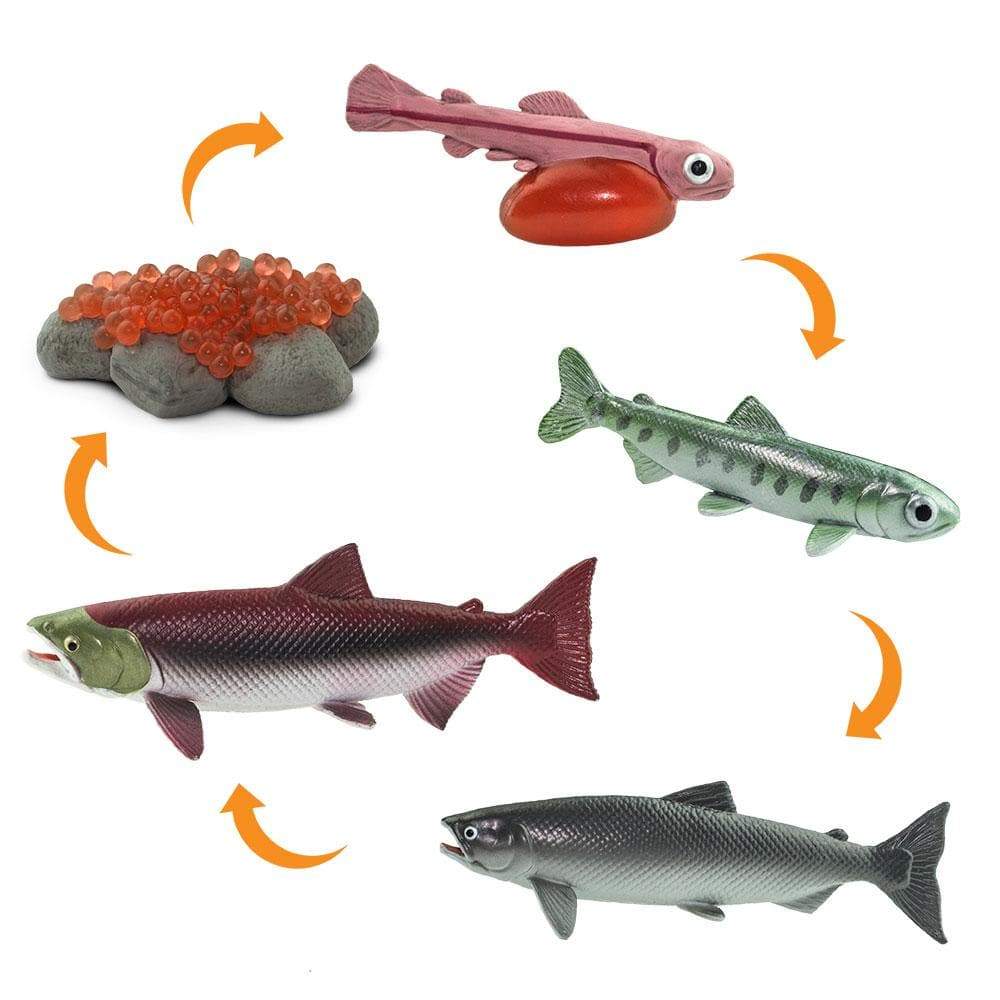 Why Colour Me Mats?
Benefits of Colouring Mats

We strongly believe in minimising screen time for children and hope to bring you and your little ones closer as you explore the imaginative world in the various scenes together!
Raised Edge Colouring Mat Border

Our colouring mats are designed with a raised edge around the border to guide young children to colour within the mats and contain any dining messes and spills.
Environmental Sustainability

All our mats are treated with a buttery smooth surface for easy cleaning even when ink is left on for days! Simply use wet wipes or gently wash with soap, and it'll be brand new once again.
Premium Food-Grade Silicone

Our colouring mats are made of premium food grade silicone, are BPA-free and certified by FDA and SGS.
Let customers speak for us