Colour Me Mats
Regular price
Sale price
$72.00 SGD
Unit price
per
Save!
Out of stock
Each Party Pack comes with 1 puzzle mat and 3 markers (2 fine tip & 1 broad tip).
Note: OPP Plastic is not available as of 1 December 2022.
Colour Me Mats' Party Packs make the perfect gifts for your little ones' birthday or just any occasion to keep young children busy!

Here are some simple steps to cart them out!

Step 1:
Select your quantity in multiples of 5 (minimum 10). 

Step 2:
Select your preferred packaging option - Organza Bag or PVC Zipper Bag. Complimentary gift tags are included when you opt for organza bags or PVC zipper bags.* Scroll below for details.

Step 3: 
Assorted designs will be allocated. If you have a preference for particular designs or would like to advise the ratio of boys and girls, please indicate them in the 'Special Instructions' comment box in your Shopping Cart. Alternatively, drop us a DM on Instagram @colourmemats or email us at hello@colourmemats.com.sg. Otherwise, designs will be packed at random.
Our gift tags are pre-printed as seen below, and comes with a hole at the top left corner:
'Colour with Love' will be provided by default. Should you wish to have 'Merry Christmas', kindly request in the Instructions in shopping cart.
To purchase more Gift Tags - Add your required quantity to cart.
Note:
For customisation (eg. 2 puzzle mats / 5 markers) or urgent requests, please PM us at our Instagram account @colourmemats or email us at hello@colourmemats.com.sg for assistance.
Kindly note for change of marker variations:
Upgrade 1x Fine Tip Marker to 1x Broad Tip Marker is $0.20 per piece
Add on 1x Fine/Broad Tip Marker is $0.50 per piece
Kindly refer to individual product pages for more pictures:
Isn't it fascinating to know that massive, majestic and treacherous creatures once roamed the Earth more than 200 million years ago? Dinosaurs fascinate most young children; let's tap on this sense of curiosity to learn more about Dinosaurs. Share with your little ones how Dinosaurs became extinct and the discovery of dinosaur fossils since then! Go back in time and walk with the dinosaurs in the imaginary world with these Colour Me Puzzle Mats!
Mermaids have appeared in tales of folklore in numerous cultures worldwide, the earliest in ancient mythology was discovered to be more than a thousand years ago! The most popular literature is found in Hans Christian Anderson's fairy tale The Little Mermaid (1836), which has been retold in numerous adaptations. The most popular of which is the 1989 Disney movie of the same name!
Ever wondered what's out there in outer space? Does extra-terrestrial life really exist? Does your child dream of being an astronaut and whom wish to represent Singapore on its first walk on the moon? Live their dream and go on a space exploration journey with your little ones with our Colour Me Puzzle Mats!
A long time ago in a faraway land, there lived a king and a queen with their beautiful daughter in a golden castle, where dragons roam and brought fear to the people. Share your own version of how this fairy tale ends with these Colour Me Puzzle Mats!
Mythology surrounding the unicorn, a creature resembling a horse with a single horn on its forehead, dates back to ancient times across various cultures around the world. The unicorn is said to symbolise nobility, purity, strength, courage and magical healing powers. Similarly for fairies, whom are said to originate in European myths are now appearing in stories around the world, are usually associated with nature. Fairies are known for their magical abilities, timeless beauty and sometimes for their minuscule size, like the most popular fairy, Tinkerbell in the story of Peter Pan.
Seasons are caused because of the Earth's changing relationship to the Sun. The Earth travels around the Sun once a year and as the Earth orbits around the Sun, the amount of sunlight at each location on Earth changes. This change causes seasons, and seasons have a lot of impact on what happens on Earth, affecting plants and animals and us humans too! Every season tells their own story. In spring, it is a story of hope while in summer, it tells a story of fun! Tell your own version with these Colour Me Puzzle Mats!
There are three modes of transportation, namely land transport, air transport and water transport. In our Passenger & Logistics Vehicles puzzle mats, you can spot them all! Share how you travel from place to place via the different modes of transportation, and learn how goods are transported between countries too!
In our Emergency & Construction Vehicles puzzle mats, spot all the unsung heroes who work hard in keeping our country safe! Let's not forget the people who construct the very buildings we live and work in too! Share the critical roles each of them play in our society to your little ones with our mats.
By popular requests, we have made mini versions of our bestselling Animal Habitats for your travelling needs! Arctic Expedition, Safari Adventure, Deep Blue Sea and Into the Woods are now in puzzle mats.
Instilling correct values and virtues in children is very important because these could influence their integrity and morality, as well as their attitude and behaviour towards life. Knowing good values and virtues can build our children's character, help them tell what is right from wrong, and cope with difficult situations.
Share your favourite bible stories with your little ones! There are a whole lot more, but here's four of our favourites on our colouring mats! The Lion's Den, the Birth of Jesus Christ, Jonah and the Big Fish and Noah's Ark.. what more can you think of?
Does your family have Christmas traditions? What do you do together as a family? Be it decorating your home and setting up a Christmas tree, having a wonderful Christmas dinner with loved ones, exchanging gifts and narrating Christmas stories, these are wonderful memories we create together as one family! There are a whole lot more, but here's four of our favourites on our colouring mats!
This Islamic colouring mat invites our little Muslims to learn about The Five Pillars of Islam and to take action daily with good deeds. These basic duties: Belief, Worship, Fasting, Almsgivng and Pilgrimage, guide Muslims in their daily lives and their worship of God. Engage them in conversations on the fundamentals of Islam. Encourage our little Muslims to do good deeds and create a positive impact in the world!
Note: Timmy & Tammy puzzle mats are currently not available for party packs. You may purchase on ala carte basis should you wish to.
BPA-free and made of premium food grade silicone with FDA and SGS certification

Raised edge around the border to guide young children to colour within the mat and contain any dining messes and spills

Rolls up and folds up easily for great portability - perfect for use on-the-go

Buttery smooth top for easy cleaning even when ink is left on for days

Grippy bottom clings to most surfaces

Able to withstand up to 230 degree celsius

Colour Me Puzzle Mats come in a portable size of 16cm by 11cm – the perfect handy entertainment you'll need for your child

Colour Me Puzzle Mats come with a keyhole designed to ring your puzzle mats together to bring them out easily.
Add on options available for Colour Me Mats whiteboard markers and organza bags.
All our mats are suitable for use with alcohol-based dry erase or whiteboard markers. Do not use oil-based markers or permanent markers.
Share
View full details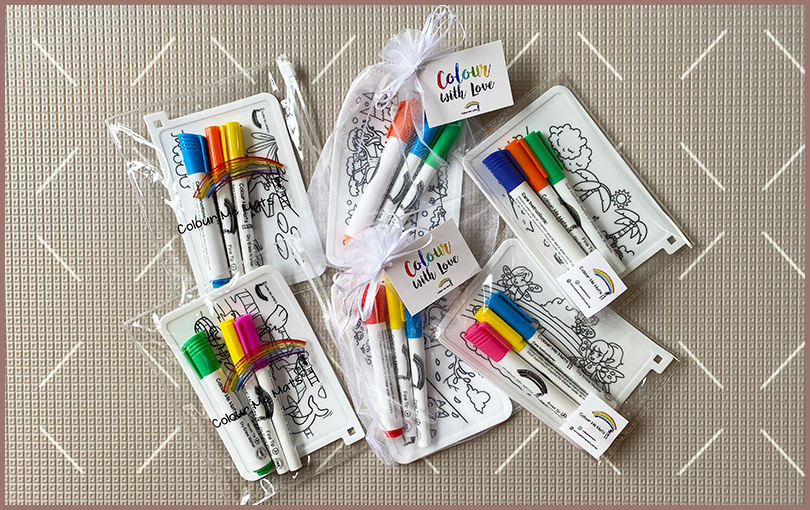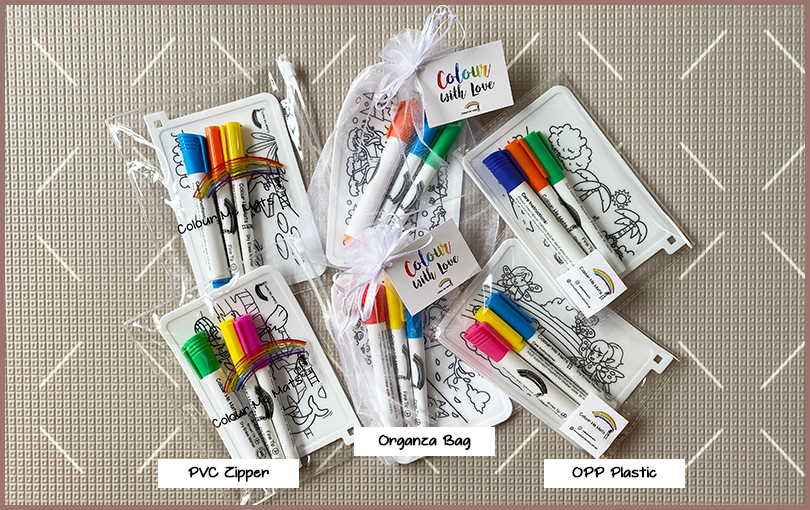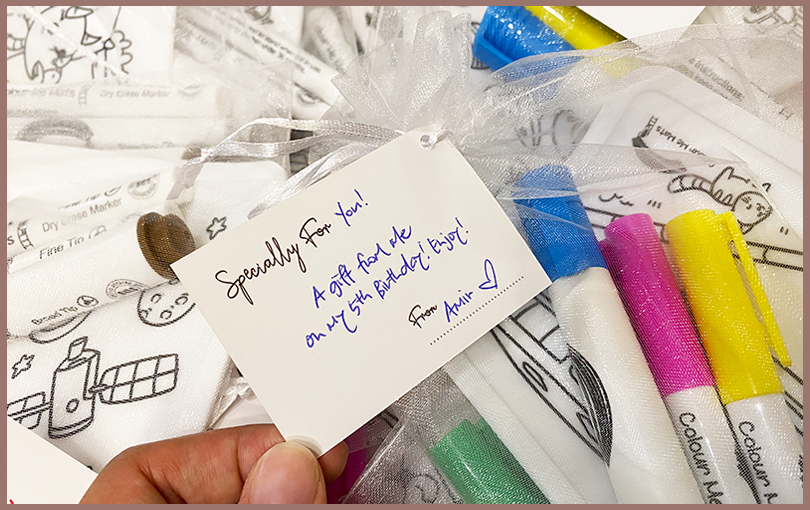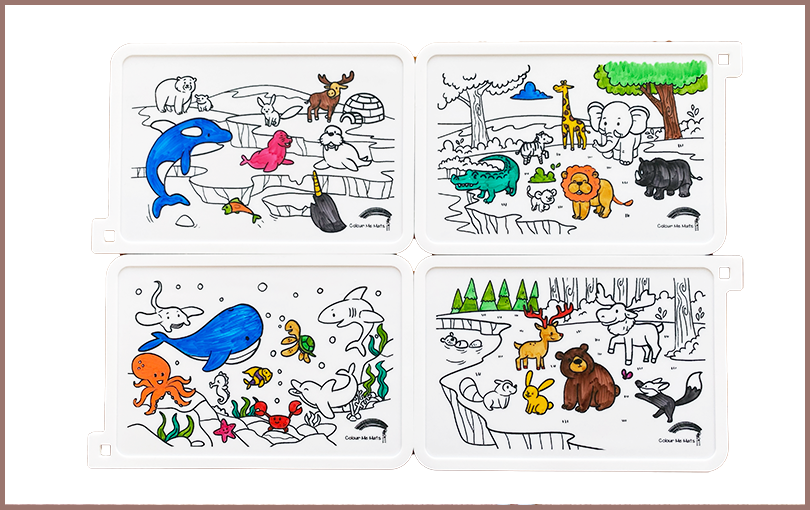 Good
All nicely packed and good service recovery! Will purchase again
Fun and fuss free for kids
A very handy item to keep kids occupied even while on the go. Delivery was super efficient and overall a super good buy! Will definitely recommend!
Convenient Party Packs for Children!
The party packs are packed nicely and it's so convenient to distribute to the other children! They will definitely have fun colouring the mats!
Great and Fun Activity at Home
It's very fun and great activity for parent and their children at home during this pandemic period. Good quality and easy cleaning. Speedy delivery with good condition.
Fast delivery
Seller is very friendly, reply was very prompt. I purchase it as a gifts for my girls classmates. My girl love her own colouring mats too. Very thick quality of the mat.
Why Colour Me Mats?
Benefits of Colouring Mats

We strongly believe in minimising screen time for children and hope to bring you and your little ones closer as you explore the imaginative world in the various scenes together!
Raised Edge Colouring Mat Border

Our colouring mats are designed with a raised edge around the border to guide young children to colour within the mats and contain any dining messes and spills.
Environmental Sustainability

All our mats are treated with a buttery smooth surface for easy cleaning even when ink is left on for days! Simply use wet wipes or gently wash with soap, and it'll be brand new once again.
Premium Food-Grade Silicone

Our colouring mats are made of premium food grade silicone, are BPA-free and certified by FDA and SGS.
Let customers speak for us