Colour Me Mats
Regular price
$15.00 USD
Sale price
$15.00 USD
Unit price
per
Save!
Out of stock
Assalamualaikum. Peace be upon you.
Hari Raya Aidilfitri marks the end of a month of fasting for Muslims. Muslims wake up early, visit the mosque and praise Allah (S.W.T) for the blessings they have in life. They also seek forgiveness from their elders and receive 'green' packets of money.
Muslims don new colourful baju kurung, enjoy food spread like ketupat, rendang and kuihs with their friends and families. It is a time of joy and blessings for the entire Muslim community. Let's make this syawal a more meaningful month and celebration for all of us!
This Islamic collection is in collaboration with Yenny Hassan - a full-time mother to 2 little cats and a very special boy while being a freelance graphic designer/illustrator for Hurhur. She is also the designer behind Hurhur Photobooth.
Her love for art and design has been since she was first introduced to Saturday morning cartoons and her brother's comic books, illustrating ever since she could pick up a pencil.
Currently working on a variety of creative projects including book covers, posters and murals at primary schools and enrichment centres, and Islamic goods such as prayer decals and colouring rolls for children. She utilises her skills in illustrations to create graphics for worksheets and Picture Exchange Communication System (PECS) chart for her communicating with her ASD child.

When she's not illustrating, she enjoys time out with her hot cup of coffee and a good book. More of her work can be found on https://hurhur.design/
When selecting your choice of markers, we recommend the following:
- Broad Tips for toddlers & preschoolers below 5 years of age
- Fine Tips for young children aged 5 and above
Mat Dimensions: 26 x 40 cm
Items will be packed in our Reusable PVC Zipper Bags
BPA-free and made of premium food grade silicone with FDA and SGS certification
Raised edge around the border to guide young children to colour within the mat and contain any dining messes and spills
Rolls up and folds up easily for great portability - perfect for use on-the-go
Buttery smooth top for easy cleaning even when ink is left on for days
Grippy bottom clings to most surfaces
Able to withstand up to 230 degree celsius
All our mats are suitable for use with alcohol-based dry erase or whiteboard markers. Do not use oil-based markers or permanent markers.
Colour Me Mats; Reusable silicone colouring mats that are original designs conceptualised from scratch - a labour of love gifted from Mummies to young children.
Share
View full details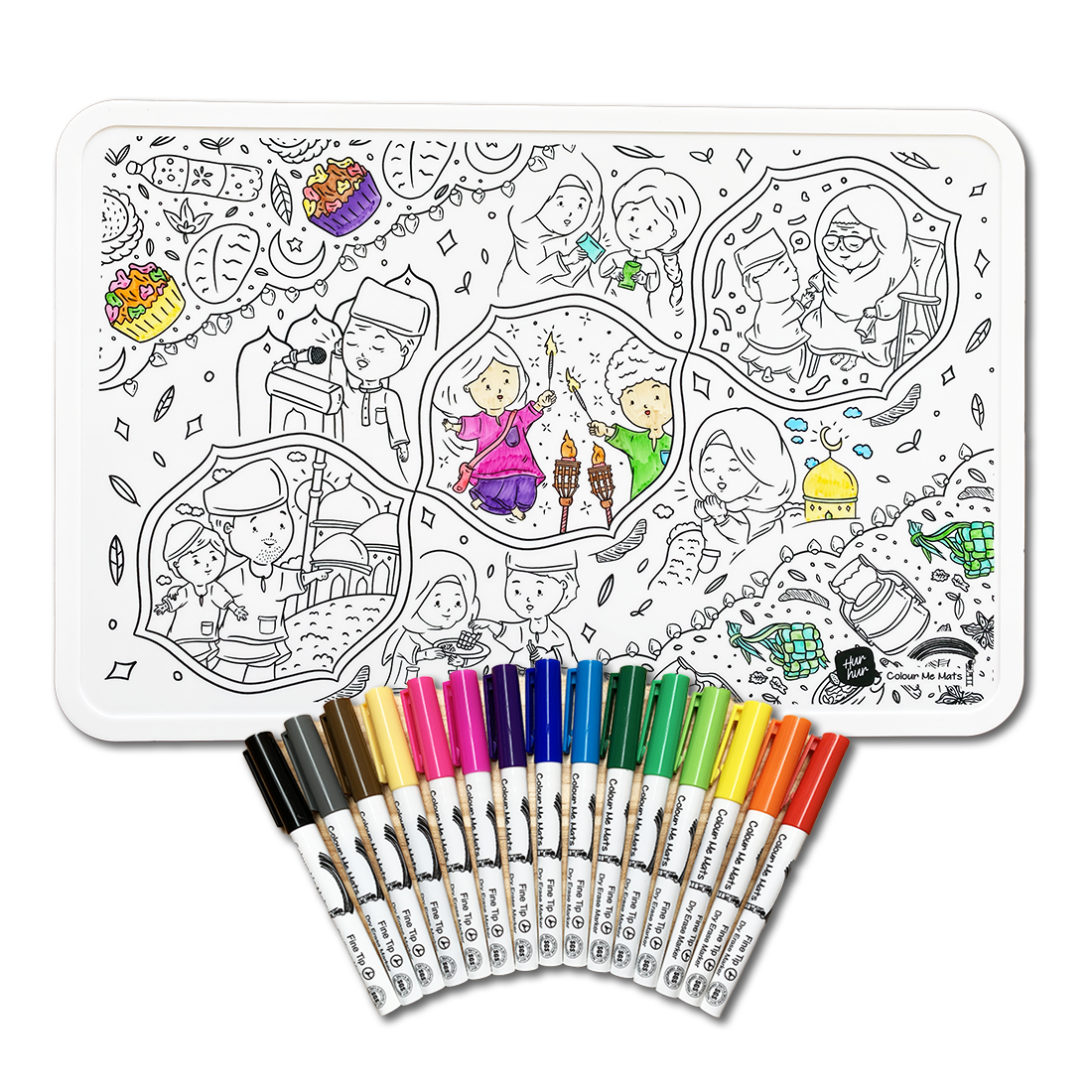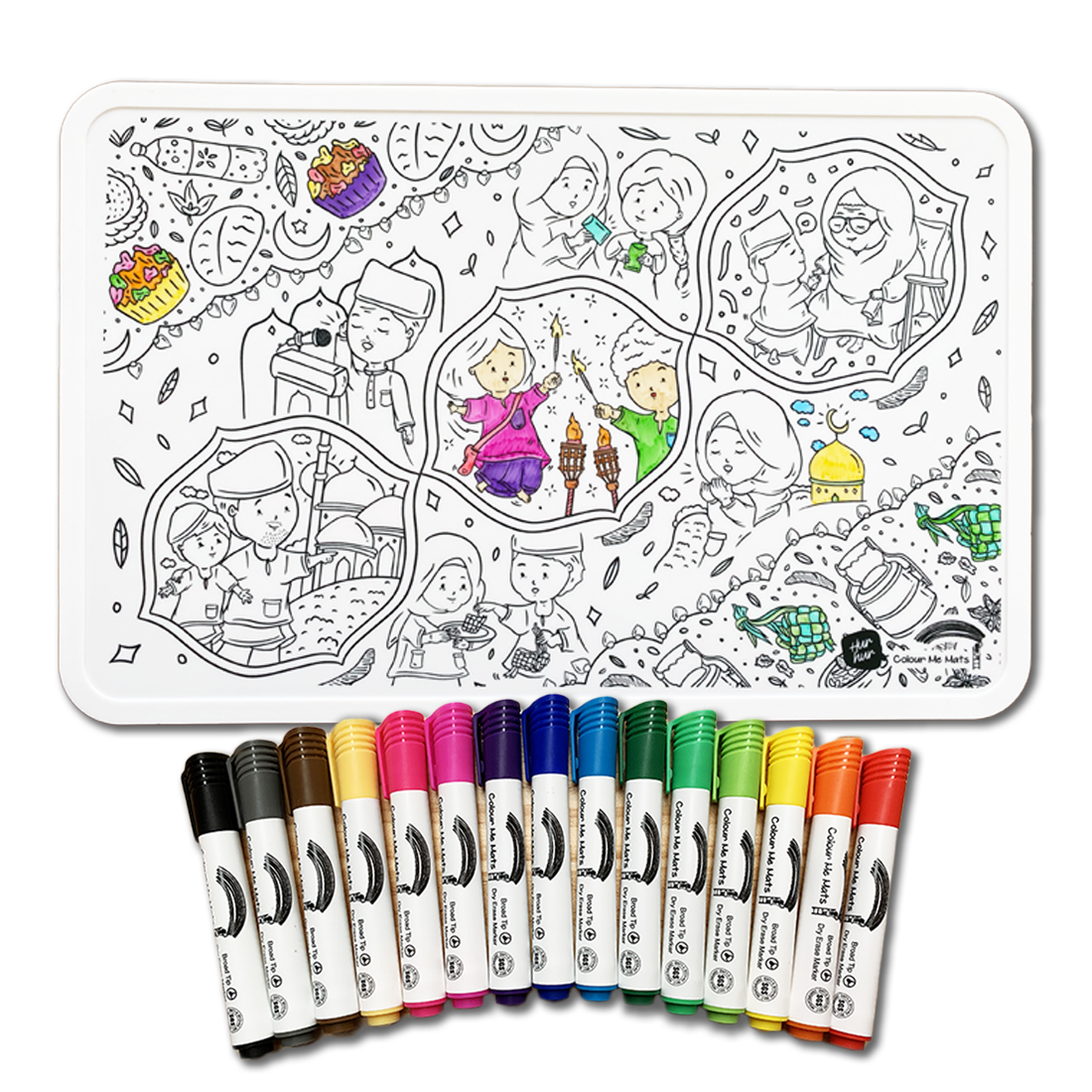 Why Colour Me Mats?
Benefits of Colouring Mats

We strongly believe in minimising screen time for children and hope to bring you and your little ones closer as you explore the imaginative world in the various scenes together!
Raised Edge Colouring Mat Border

Our colouring mats are designed with a raised edge around the border to guide young children to colour within the mats and contain any dining messes and spills.
Environmental Sustainability

All our mats are treated with a buttery smooth surface for easy cleaning even when ink is left on for days! Simply use wet wipes or gently wash with soap, and it'll be brand new once again.
Premium Food-Grade Silicone

Our colouring mats are made of premium food grade silicone, are BPA-free and certified by FDA and SGS.
Let customers speak for us